<![if !vml]>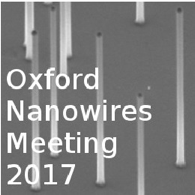 <![endif]>
MBI Al Jabber Auditorium, Corpus Christi College, Merton Street, Oxford
Thursday 12 January 2017
Introduction and Scope:
This is the third annual meeting of a selection of group leaders from the UK who are researching III-V nanowire growth, characterization and devices. The aim of the meeting is to facilitate better collaboration, stimulate new ideas and allow us to better complete with coordinated research programmes throughout the rest of the EU and further afield.
A representative from each institution has been asked to give a brief general overview of their nanowire research interests, activities and facilities. Following these informal talks, there will be a strategy session for group leaders. The aim of the strategy session is to help formulate strategies that enable better collaboration and to explore coordinated funding strategies. During the strategy session other delegates are invited to network and visit the labs in Oxford.
Michael Johnston.
http://www.oxforduniversitystores.co.uk/browse/extra_info.asp?compid=1&modid=1&prodid=12923